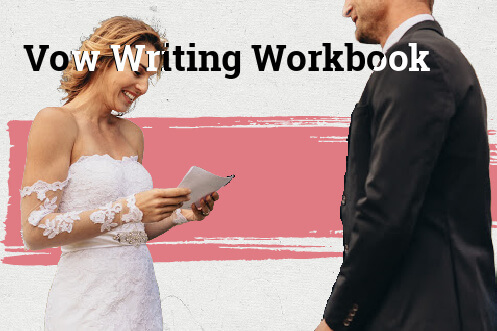 Writing Your Wedding Vows
This month, I wanna help you write your vows. This might seem like an overwhelming task, but doesn't have to be. In fact it could be fun. Let's work through it together with this new helpful tool: a Vow Writing Workbook.
When writing or prepping your vows, it goes without saying that you should be thinking about things you love about your partner.
We begin by getting you to think about words people use to describe you, your partner and you as a couple, and the beginning of your relationship: where you met and how long you've been together.
Next, we ask you to think about the time you spend together, the things you like to do.
Part of a successful relationship is also the ability to be apart, for you to have your interests separate from them and vice versa, so the questionnaire asks you about that, too. 
How you feel about your partner. Choosing words that you might use to describe them, and then think about why you would choose those words. Use examples from real life.
A healthy marriage is loving someone despite their minor flaws. You're super-organized, they're always looking for their keys. They drive like it's the autobahn, and you're more cautious. Get it? 
But let's not dwell on it for too long, let's talk about your goals for the future. What will your lives look like in 5, 10, 20 years? Do you envision yourselves being parents? Will you travel? And what will your legacy as a couple be?
After you jot all of that down in the planner, pull it all together include what you want, exclude other things and write the rough draft of your vows. We've included some quotes intended to inspire your love.
The most important thing to remember is to have fun thinking and writing about your favourite things about your partner. 
---