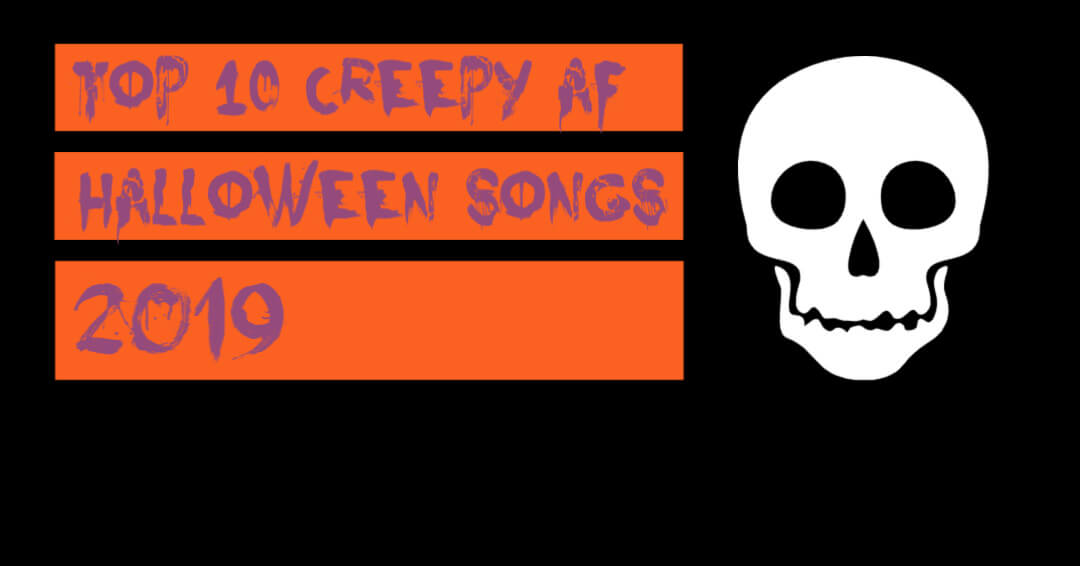 October 29, 2019
Top 10 Halloween Songs, 2019
Before I get to the list of my list of personal favourite Halloween songs, I'd like to bring to light a few honourable mentions that didn't quite make my list. And its not the these Halloween rejects are bad songs, its just they didn't quite check all boxes for my Halloween song checklist.
Clap For The Wolfman - The Guess Who
This Is Halloween - Marilyn Manson
Somebody's Watching Me - Rockwell
Ghostbusters  - Ray Parker Jr
Werewolves Of London - Warren Zevon
Psycho Killer - The Talking Heads
I put these songs in the category of Honourable Mentions because they just fail to give me any creep factor, but others might consider them to be essential Halloween songs. And in the spirit of transparency, 4 of these songs were on my previous list of favourite Halloween songs.
1. We'll start this list off with Lana Del Rey's remake of Donovan's 1966 hit. Lana is immensely talented and this remake features some whispered lyrics and ethereal reverb on her voice, this is a new addition to the original list. And fittingly, it outperforms the original.
Give it a listen, and check out the Original Motion Picture Soundtrack. 
2. I've always found this song to be a little disturbing. The lyrics full of odd questions,
What's your name? (What's your name?)
Who's your daddy? (Who's your daddy?)
(He rich) Is he rich like me?
It always sounds like questions a kidnapper would ask before grabbing kid and throwing them into a white creeper van. *shivers*
3. This song is here because I'm talking about songs with suitable creep factor for Halloween. And this song has some discordance that lends creepiness. It is a very catchy song, just not one of my absolute favourites. Also the video is full of creep factor: bloody noses, crab walks (a la The Exorcist) and more. I'm sure she's very talented, but then again she might be a one trick pony...
4. and to prove a point, the video for bury a friend also features similar macabre imagery and lyrics. Would Billie Eilish benefit from doing something that doesn't have a disturbing tone? Maybe. Or perhaps she's like this generation's shock (schtick) rocker?
5. And speaking of shock rockers, how about where it all began?
This is my absolute, hands-down favourite Alice Cooper song. He practically invented shock rock. Amirite?  He paved the way for bands like Gwar to cash in on the theatrics, as well bands like Slipknot and Marilyn Manson in 90s to include more lurid content in their songs.
6. Did someone mention Marilyn Manson?? This video is filled with frightening imagery, and it just gives me the heeby jeebies. I often wonder what Annie Lennox thought of this version of The Eurythmics 1982 song, and apparently, she's fine with it. 
In the spirit of everyone finding their own dreams, Lennox is fine with other interpretations.
"It has nothing to do with sadomasochism, which people have often thought it does," she said.
"But actually if you want to make it about that, that's okay. Marilyn Manson took it to one extreme and we were very glad that he did." (Source: http://www.providermodule.com/forum/showthread.php/8937-Eurythmics-reflect-on-Sweet-Dreams-and-Marilyn-Manson-s-cover)
7. Hard rock in the 90s seemed to have had a real fascination with dark and twisted imagery, and that includes Rob Zombie. I've always thought of RZ as the campy and innocently strange version of Marilyn Manson. His songs often mentioned things like zombies and witches, and generally dealt in all things sinister.  I really struggled about whether I should include this one of Living Dead Girl on my list. Did I make the right choice??
8. Remember this one from 2016? It very much deserved to be added to my 4-year-old list of top 10 Halloween songs. The pitch adjusted bridge, "All my friends are heathens, take it slow/Wait for them to ask you who you know." is awesome. 
3 years later its worth another listen.
9. Time Warp from the Rocky Horror Picture Show is the penultimate Halloween song. There is nothing I can write about this song or the movie (mostly because I've never actually seen the movie all the way through). But people love the song, and they love the movie particularly around the Halloween season.
So, I guess there's nothing to do but do the Time Warp again, it's just a jump to the left, then a step to right,... you know the rest. You're welcome.
10. You had to know that this would be on the list. This song is the ULTIMATE Halloween song. This song is so synonymous with Halloween, it's hard to not think of another song more suitable for the scariest time of year. Even 37 years later, it's still the #1 song you think of at Halloween. Geez Louise, this video used to scare the bejesus outta me.
If you have 13 minutes to spare watch this video. I love that the video begins with a disclaimer from MJ himself, "Due to my strong personal convictions, I wish to stress that this film in no way endorses a belief in the occult." Check it out.
While you're at it, give Steve Aoki's remix a listen. Very very worth it. I am serious give it a listen.
---