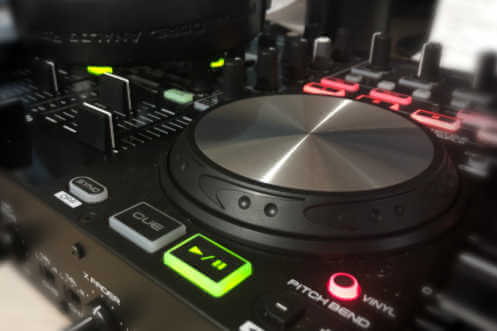 August 14, 2018
DJ Services: From Start To Finish
Warning: Bargain Bin DJs
This is a warning to all the deal hunters out there. If you're looking for a cheap DJ, you'll get a cheap DJ. Value is not in price, but rather in what you get for the money being spent, how the service makes you feel, the level of service provided.
The above is what distinguishes the best price from the lowest price. If, as a newlywed, you're looking simply for the lowest price. You will end up Bargain Bin vendors.
How would it go over if your:
• florist showed up with their front yard dandelions tied together with twine?
• cake vendor baked an 8" carrot cake and called it a day?
• photographer showed up with a Fujifilm Instax Camera?
• caterer arrived late with a frozen lasagna?
• DJ showed up with an old, home 5-disc CD changer, dozen CDs and flashlight light show?
Are the above examples ridiculous hyperboles? Yes, of course, they are. But it's important to know the true cost of hiring inexperienced, unqualified, ill-equipped vendors for your event. For clarity, the above examples have NEVER happened at a wedding I've attended (to). They are included only for their sheer ridiculousness. The point of this is to hire a company you trust.
How do you do that? Easy.
Find a company you trust
Packages and
 Price
I've said before (in this blog and others) to not hire strictly on price. Value is not in the price, but in what's included in the offered packages. Vendors will often, whenever possible, bundle their most popular services together to provide easily demonstratable value to their clients.
For example, as a mobile DJ company, we offer two tiers of our service, Essential and Ultimate.
The Essential brings together everything you NEED for simple A/V needs: at least 2 speakers on speakers stands with covers, microphone for speeches, a live DJ with professional quality mixer, computer, mixer and complete library for the entire 8 hours you'll need them there (value in equipment), you'll know that the DJ will be there 2 hours prior to your guests showing up (value in peace-of-mind) to address and deal with any set up issues that might exist, depending on the venue we will bring extra speakers to ensure there are no "hot spots" or "cold spots" of sound. There's nothing worse than some guests being blasted by sound, and others not being able to hear a thing. (Value in venue-experience), we include cocktail and dinner music from the moment your guests arrive through to the beginning of speeches (value in guest experience) and travel within Greater Edmonton.
Equipment and Presentation
Chances are it doesn't matter to you whether we use Peavey, EV or Behringer speakers, or whether we use Virtual DJ, Traktor or Serrato software. But for the record, our DJs have the highest standards in the Edmonton Wedding DJ industry, featuring Peavey and Behringer powered speakers, Allen and Heath mixer, Virtual DJ and Serrato software and other high-quality brand name equipment. In any case, the clothes do not make the man, or more crassly, it's the size of your equipment that matters.
However, there is the value in creating an acceptable presentation of the equipment.
We work hard to ensure a clean set-up at every event. That means unsightly cables are hidden from sight, if cables need to be laid across the floor they are taped down, and we use tablecloths and table skirting to hide the under-the-table nest of cables, our carrying bins from sight and our legs from sight.
Personality
People matter. Personalities matter. The big questions to ask about his personality are
• Will he get along with other vendors?
• How will your guests like him?
• Will he be respectful of them?
If your DJ is a dink, you're probably not going to hire him, right? And if you do hire him, you might not like the job he does, because… he's a dink. It's as simple as that.
We at SOUNDfonix have a policy of treating everyone with the respect they deserve; from your guests to the other vendors. We work with all your vendors who are there the day of, to ensure your event flows as flawlessly as possible and we engage respectfully with your guests to ensure they are having a good time, enjoying the music and we solicit requests from them (even the non-dancers) so we know that we are trying
Insurance and other certifications
Reputable DJs will have insurance will likely be able to provide proof of insurance with a certificate of insurance. SOUNDfonix can provide a certificate of insurance in the initial meeting if you choose to ask. Ask all your vendors about their insurance. It protects them, you and your guests against any unfortunate accidents. As careful as SOUNDfonix is with securing and obscuring all hazards, things CAN happen.
In addition to insurance, there should be at two other main certifications, you should look for in any vendor: a local business license and membership to a professional organization.
None of the above certifications alone indicate quality, but having all three will certainly differentiate between fly-by-night operations and serious, committed companies who want to provide the best level of service for your event.
SOUNDfonix keeps a valid 2,000,000 liability insurance policy, a business license and is a member of AAME (Alberta Association of Mobile Entertainers), soon to be renamed CEP (Canadian Event Professionals).
Who will be the DJ?
Do you get to meet your DJ before the event? SOUNDfonix events are services primarily by one DJ (DJ A/A/Ron, Aaron Kroetsch). We keep one other DJ in the queue so if something happens to DJ A/A/Ron, you have one more reliable SOUNDfonix DJ. Otherwise, that's why we are a member be AAME/CEP, an association of other reputable DJs and can fill in in a pinch. Although SOUNDfonix takes every precaution to make certain we can fulfil our obligation to you and your guests. Hiring SOUNDfonix Entertainment guarantees the best.
We are very proud of our all 5-Star rating on Facebook, Google and Wedding Wire. Read our reviews online now.
Determine How Involved You Want Them To Be.
We have three levels of interaction with your guests.
• Jukebox (simply taking requests from an active group of dancers/requesters);
• Active (engaging with and addressing your guests regularly over the mic, taking over all announcing after speeches, visiting with them on a personal level, and soliciting requests), and;
• Master Of Ceremonies (fully engaged with all the moments, vendors and guests, introducing speeches, and playing dinner games with your guests)
Decide what level of interaction you want, and we'll send out the appropriate DJ for your needs. Our lead DJ, DJ A/A/Ron is perfectly capable of all levels of interaction, he can easily sit down and play your guests requests or take on a more integrated role establishing the flow for the evening.
The Devil Is In The Details
Additional Costs, Rentals and Upgrades
The price we offer for you packages is the price you'll pay. There are no hidden costs in our services, any additional requirements such as screen and projector rental, ceremony music are clearly shown as additional services on our wedding planner document.
Many couples who have hired SOUNDfonix are impressed with the level of detail included in the document. We cover many items from our level of interaction, to the make-up of your guests and the types of music that our couples enjoy.
Music Library
Our music library is 14,000+ songs deep and is extensive, from old jazz, rock and roll and country, to the latest hits in many genres of popular music. And our knowledge of music is pretty impressive, we can often provide clarity to request makers who ask for songs not by title or artist, but sometimes by the lyric.
Music Choices
Our website offers many suggestions for various elements of your big day from the ceremony (Bridesmaids, Groomsmen, Grooms and Brides' Processional; Signing of Registry, Sand Ceremony, or Wine Ceremony, and; Processional Song) We've covered these topics in depth in other blog articles. Check out our collection of blogs on our website.
Dinner
We allow couples to identify the types of music they would like to hear during dinner. Our advice is to pick from the selections we provide in the planner, and pick the types of music you would listen to at home while having dinner. It's never intended as a party atmosphere during dinner, typically what is played are recognizable and popular songs that not dancing songs, some of the more popular artists we play during dinner are Frank Sinatra, Dean Martin, Billy Joel, Elton John, Colbie Caillat, Jason Mraz, Harry Connick Jr, among others.
Reception Songs
The songs you need to think about for your reception are:
Grand Entrance
First Dance
Father / Daughter
Mother / Son
Bouquet Toss
Garter Toss
Nock List
We allow you the pick and choose songs that you DO NOT want to be part of your celebration. I often tell people that there are always particular songs in the mainstream that become oversaturated, I would impossible to give examples without potentially dating this blog, but it doesn't take much imagination to think a few songs and artists that are overhyped and overplayed.
Be careful to not put the nix on too many songs or artists, keep in mind that some of your guests may like and request the music that you put on your list, and if there are multiple songs and artists that we must avoid, your guests will quickly become annoyed.
Dress Code
You can pick how we dress for your event. The most popular choice is semi-formal, dress shirt and pants with tie and dress shoes and socks. Although some couples recently have opted for the casual option: a dress shirt, tie and nice, clean jeans for rural settings.Venue Locations
Venue Locations
Obviously, there is a section of our planner for details about your venue. We need to know where to be and when to be there. We advise that you allow us at least two hours before your guests arrive to allow us to be fully set-up when they arrive. For example, if you are hiring us for your ceremony music, let us know on the planner what time your ceremony is supposed to start, we know that guests will arrive 30 in 40 minutes before the start of the ceremony and we will anticipate to be there 2 hours before that. Also, we ask that you either advise the venue of what time to expect us or give us the contact name of the venue so we may orchestrate with them.
End Of The Night
This blog to this point should take you right through your evening. The final topic that we will discuss here come at the end of the night. DJs are often the first to arrive to the venue, and the last to leave, we put in really long hours the day of, SOUNDfonix has a policy of payment no later than the night of, some DJ companies request payment before the night of. It's completely up to the vendor. It is important to honour the policy of whichever vendor is requiring payments.
Tipping
Our stance on tipping DJ is that it is not necessary but certainly appreciated. What SOUNDfonix would appreciate even more is a review on Google or social media. This is the social validation we use to gain more clients and build a reputation. If you feel, we as a company, went above and beyond or we need to improve, by all means, we encourage you to leave a review on Facebook or Google. We take all feedback very seriously. If you feel that the DJ was over-the-top spectacular feel free to show them your appreciation with a tip. SOUNDfonix does not have a policy on tipping, it's a "you" thing.
---