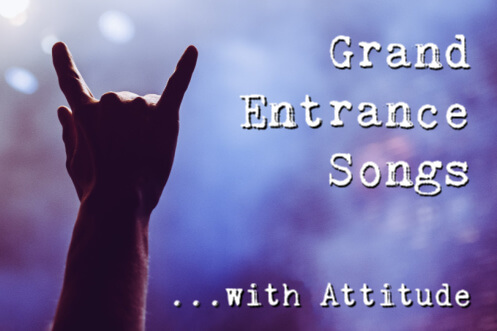 12 Grand Entrance Songs With Attitude.
The Attitude I'm talking about here is confidence, knowing what you have and knowing the others know it, too, zero effs given. These songs will definitely add some hype to your Grand Entrance. From rebel rock to hip hop hype, these anthemic songs'll cover your bases for sure. 
Check it out.
Let Me Clear My Throat - DJ Kool
After the introductions, this song features the cool swagger of Hollywood Swinging by Kool and The Gang and then goes into a very cool sample that has that early nineties attitude coming from the hyped intro chanting 'Jump, Jump, Jump."
Chelsea Dagger - The Fratellis
This is just a very cool song that, very much like the characters in the song, doesn't really give a damn what you think.
Welcome To The Party - Diplo (w French Montana & Lil Pump ft Zhavia Ward)
Perfect dramatic intro for your introductions. As a bonus, this song is on the movie soundtrack of most BA superhero there is, Deadpool.
All I Do Is Win - DJ Khaled (ft T-Pain, Ludacris, Snoop Dogg & Rick Ross)
Is there anything more confident than saying 'AllI Do Is Win'? 
The answer is, "No there is not."
I Believe In A Thing Called Love - The Darkness
This song has an 80s rock feeling, that really sums up where the attitude comes from in this song.
Bring 'Em Out - T.I.
Nothing to say here, this song had to be on this list of awesome, hype inducing Grand Entrance songs.
Thunderstruck - AC/DC
This song has more rock attitude packed into the first minute than most songs have in 4 minutes.
"Thun-der!"
Raise Your Glass - Pink
I adore Pink's rock and roll but fun-loving attitude, and this song demonstrates both those qualities so well.
Welcome To The Jungle - Guns n Roses
Here's another song with an abundance of rock attitude. Such an iconic intro, it has everything you need: Slash's great guitar intro, Axl's primal scream and an easily loopable rock drumbeat/guitar intro.
Crazy Train - Ozzy Osbourne
You've gotta be a major rocker to use this song. Ozzy is rock n roll attitude. He's the inspiration for a lot the 80s hard rock.
Get Ready - 2Unlimited
This song screams 90s dance attitude.
I have just one question, "Are you ready for this?"
Eye Of The Tiger - Survivor
Hello? Rocky? Yea, you might think this is a little cheesy, but that's the kind of confidence you need for an epic grand entrance that guests will remember. Besides, Rocky Balboa is a bada**. 
Like this list? What on your attitude playlist?
---