February 10, 2018
Wedding Vows
Wedding Vows For Your Ceremony.
I am a romantic at heart. I love ceremonies, they make me feel all squishy inside. It's like a big soft lump of something that is difficult to define, the lump gets stuck in my throat, stops my breathing, and tears up my eyes. It's the joy I see in other people's eyes, as they are set to marry their soulmate, to unite two spirits who have been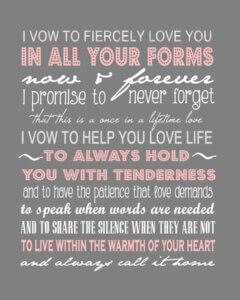 desperately seeking each other for ages, across great distances, and against all odds. I especially love the Wedding Vows.
Particularly when they are written by the bride and groom. Expressing the deep love you have for someone is hard to do in front of each other, nevermind doing it in front of hundreds of people. My props go out to the couple who can manage to hold it together (or not) 
through the ceremony.
I've curated here a few sentimental, romantic, witty, funny, cute things that you could fit into your wedding vows. Let's check them out together.
I want to hold hands 80 and say, we made it.
I promise to give you the best of myself. I promise to trust and respect you as your own person and to realize that your interests, desires and needs are no less important than my own.
Even though I'm unsure about most things in life, I am certain that I love you and will continue to love you forever. 
You are my lover and my teacher, you are everything I want in the world.
I was told that to make her fall in love with me, I had to make her laugh.
Instead, she laughed and made me fall in love with her. 
I didn't fall in love with you; I walked into love with you, with eyes wide open, choosing to take every step along the way.
I promise to pretend to love your video games and nerd TV as much as you do.
I promise to love you until death or zombies do us part.
Check out some more ideas on our Pinterest Page.
Soundfonix would love to be a part of your special day. Reach out to us to see if we're available.
---