June 28, 2017
Take Me To Church – June 24, 2017
It's really interesting the little differences between weddings: Church v JP, Outdoor v. Indoor; Small v. Large.  No two weddings are the same, and there's no right or wrong way to do it. As far as weddings are Iconcerned, the end justifies the means; the end result being that you're married. That's the goal, isn't it?
That being said, I got to do two things I haven't done in a long time: attend a ceremony in a church and mic a live musician. Each will be accompanied by something not everyone knows about me.
Church Wedding
The first isn't incredible, after all, I was raised Catholic. (That's the first thing not everyone knows about me) But it seems relatively rare these days, 
90% of the ceremonies I provide music for are performed by JPs. The last church ceremony I did was about a year at St. Joachim French Catholic Parish. A beautiful old parish in downtown Edmonton.
The church I was at this past weekend (June 24) was St Albert Catholic Church. It features a beautiful grotto behind the main building for outdoor weddings.
Live Musician
The second happens a lot less frequently (maybe once every couple years): I got to mic a live musician. The other thing most people don't know about me is that I was trained (early in my career) as an in-studio sound engineer; mixing vocals, music, sound effects, using effects and EQ to get the most out of sound and the room. Or in this case, the open air.  While this is something that doesn't happen very often, it is something that I am still familiar with. Any experienced and qualified DJ should be able to EQ or set up speakers and mics appropriately for any kind of room. A good DJ will also take decibel readings of a room to ensure no guests is enduring painfully loud audio.
These are all things that SOUNDfonix can for your wedding… and provide a kick ass party. Check out this review from the groom at  June 24 wedding!
See all of our 5 STAR REVIEWS on Facebook.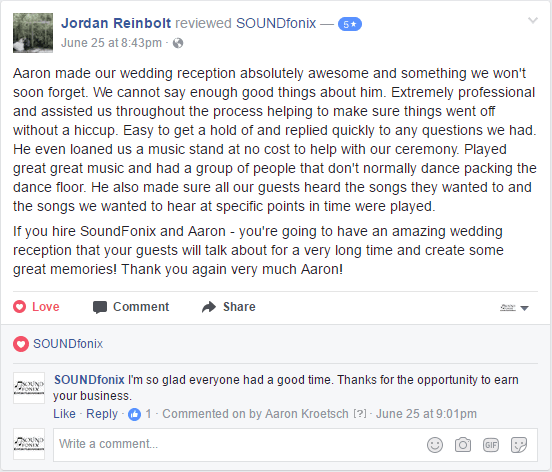 ---