Want to meet for a coffee?
Call Us: 780.893.4975

Deluxe DJ Package
Alberta's official tree is the Lodgepole Pine, an Evergreen tree that stands as a majestic emblem of the province's natural beauty and resilience. Our noble forests are a symbol of strength and lasting endurance.
This is our most popular package.
As you'd expect, our exceptional DJ skills will be on display while the lights make the dance floor more visually captivating and contribute to a vibrant and memorable atmosphere, encouraging participation and interaction among guests.
This package also includes our near-famous digital photo booth. We send out a professional, fun and interactive host, a compact set up, with fun props that can help your guests have the best photo booth experience. This photobooth sends your guests their images directly to their smart phones via a number of ways: email, text, AirDrop or QR code, and they can share it amongst themselves or to their preferred social media site.
It'll be a wedding you and your guests will remember, with pictures as evidence.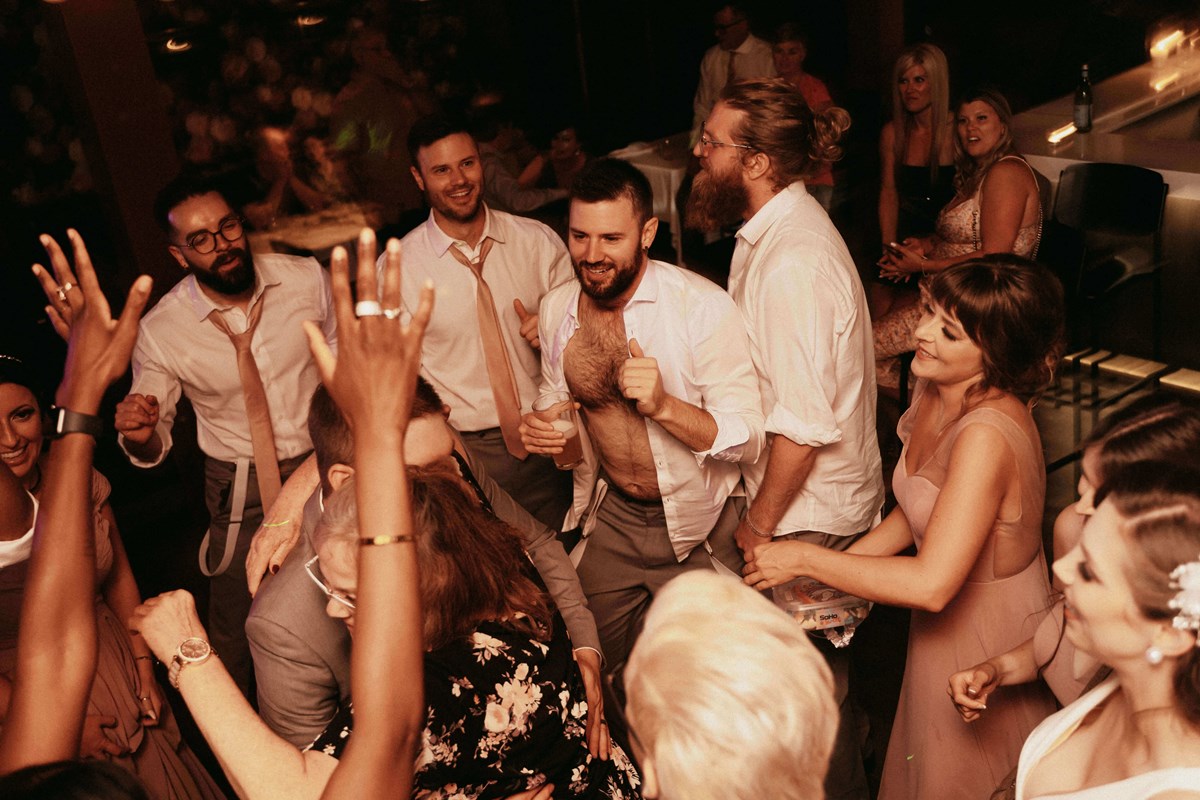 includes the following:
up to six light effects

set up and tear down no less than 2 hours before guests arrive

an full night of music from cocktail hour to dinner, and open dancing through the night

a live, interactive DJ until 1 am*

a fun and personable photo booth host until 11pm**

fun, high quality curated props

free wireless microphone for speeches

travel within Greater Edmonton area***

price includes a non-refundable $300 reservation fee upon signing of contract
*overtime for DJ is available if venue allows, but must be arranged no earlier than the night of directly with the DJ and is subject to $120/hour (or part thereof) due directly to the DJ.
**overtime for photo booth is available, but must be arranged the night of with the host ,and is subject to $65/hour (or part thereof) due directly to the host.
***within Edmonton, and extending out to Spruce Grove, Nisku, Leduc, Sherwood Park and St. Albert. Milage outside of these areas is an additional $1.40/km.
Aaron was AMAZING for our wedding! Everyone had so much fun and spent all night on the dance floor! The music was wonderful and. Aaron is such an outgoing person and so adaptable to what we needed him to do.

Taylor Tellier
I give 5 stars for everything. Colin was absolutely perfect, he even stepped up and helped us MC since ours couldn't make it last minute. Aaron was also great to deal with and always got back to me immediately whenever I messaged or emailed. Communication, professionalism, flexibility, and everything was on point!! I would definitely hire them again in the future!

Becky Goertz
Amazing. SOUNDfonix brought out the dance from even our reserved guests. Very organized online website for you to input your music selections. And if you want to add in a unique song/composition that is not found in their huge list of songs, all you have to do is give them the link or a file for that song. And yes, they do meet with the bride and groom (or party hosts) before the event to go over details and give advice. My husband and I appreciated this the most. They are very flexible to requests. We highly recommend SOUNDfonix!

Elise Guhl
Let's meet for a coffee
We'd love to get together with you to find out more about your dream wedding. Give us a little information, and we'll contact you back within 24 hours.